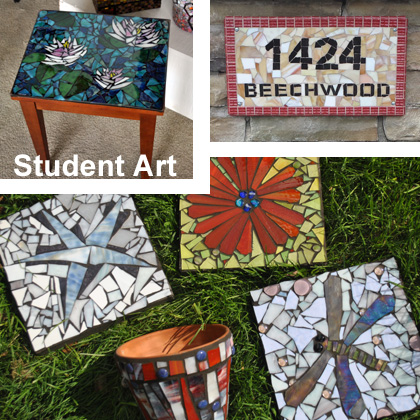 Stevo arranges his class schedule to suit his students. So, whatever suits your schedule usually works out. Any age group above seven years old is welcome.
How it normally works is a group of friends get together and decide on what time works well for all of them. We start out small the first week making a 8″ x 8″ trivet, the class lasting 60 to 90 minutes. Then in following weeks we branch into larger pre-discussed projects of the students own picking. Those classes can be 2 to 3 hours long. So, you can make any object that you want for indoors or out. Then the class continues casually until all projects are completed. Students are welcome to bring food and beverage, including wine, bloody marys, beer…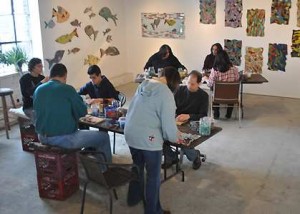 Stevo has all the materials and tools you'll need. You may also bring any objects of your own to the class. With Stevo's great creative confortable expert guidence you can expect to create beauiful mosaic artwork from the getgo.
The price is $10 an hour, plus minor material costs.
Please call or email Stevo for more details.
Stevo's Studio:
5800 Alderson Street
Squirrel Hill, Pittsburgh, PA 15217
(call for appointment)